Information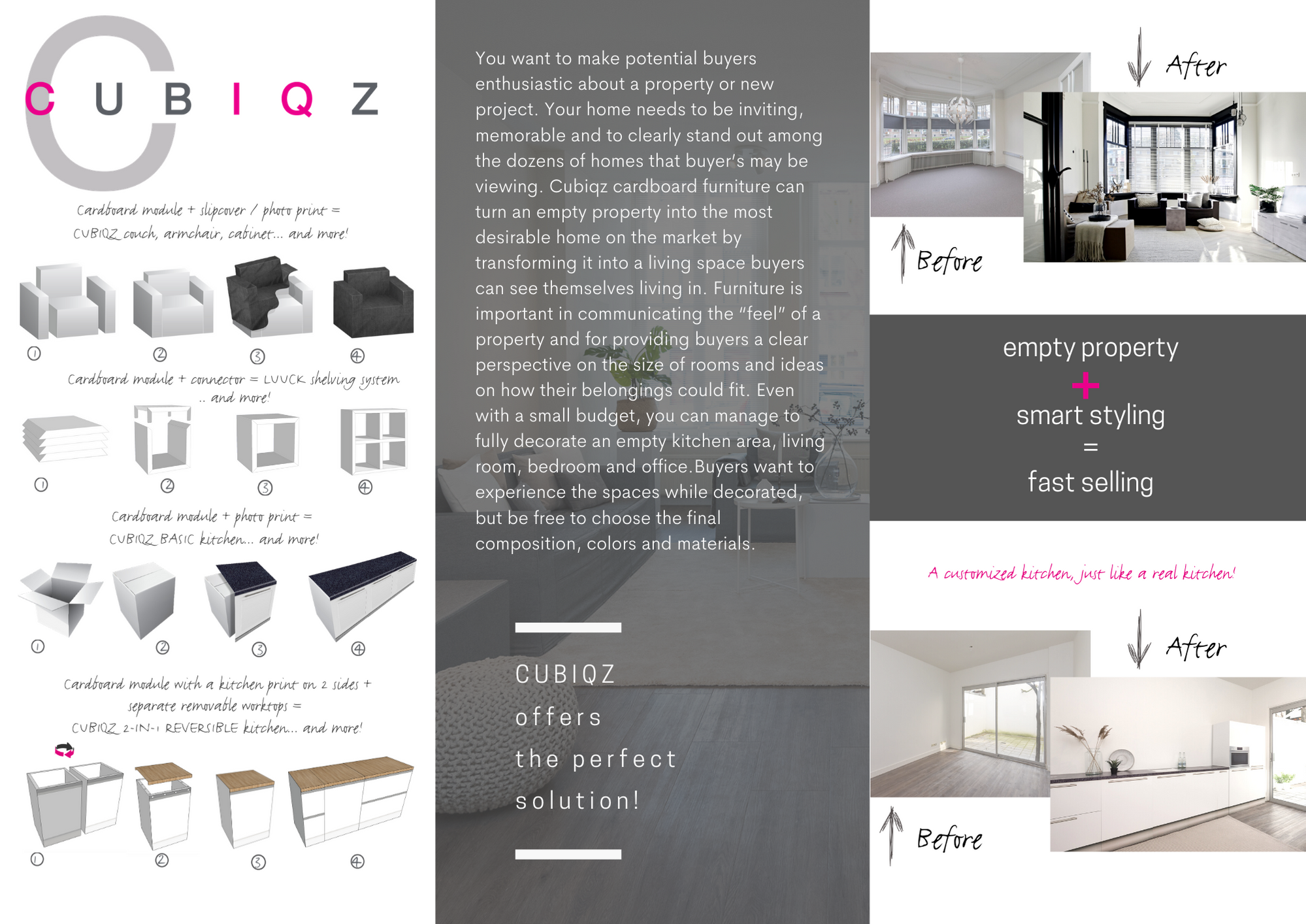 CUBIQZ CARDBOARD FURNITURE;
THE SMART TOOL FOR REAL ESTATE PRESENTATIONS

With your knowledge and expertise, you're an expert when it comes to buying and selling real estate and you know the market like no other. But your role as a broker has changed considerably. Your service has expanded significantly and your full service organization is turning more and more into informing and unburdening your customers. One of the new elements of modern brokerage is a good presentation of real estate, so that the properties become interesting for different target groups. With Cubiqz cardboard furniture, an empty property can be presented in the simplest manner on screen and in the particular property itself. For home seekers who begin their search online, a good photo presentation is necessary to arouse interest.

Once in the property, during a viewing or open house, viewers want to experience the space decorated to get a clear image of how they could decorate their new home. Whether it is a new or existing property; Cubiqz has smart solutions for every space. With a small budget, you can manage to fully decorate an empty kitchen area, living room, bedroom and office.

Inform your client about the possibility of cardboard furniture. Make your customers fans, they are your best salesmen!

10 reasons to choose Cubiqz:


Cubiqz provides a total concept; cardboard kitchens, living rooms, bedrooms and offices

The use of cardboard in combination with slipcovers and photorealistic prints makes Cubiqz a unique Home Staging concept!

It is the most budget-friendly and the easiest solution to decorate a property professionally.

The products have a professional and realistic look and are barely distinguishable from real furniture.

The modules have realistic measurements and represent exactly the look and feel of furniture in the space.

Personal advice: We give advice about a cardboard kitchen (and our other products if desired) on the basis of a blueprint, which is always custom-made and if preferred can be provided with a 3D-drawing.

Cubiqz products can always be delivered from stock within 6 working days at the location.

The lightweight modules are easily transported, assembled and moved.

The buyer can actively think along on site about solutions. Compositions can easily be changed according to preference.

Cubiqz saves a significant amount of money comparing to decorate with real furniture and the final buyer is free to decorate the space according to personal preferences and budget.